Clever Crazes for Kids® and STEM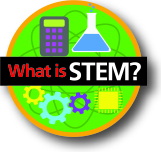 STEM (Science, Technology, Engineering, and Math) education is a way of combining four individual fields of study to create an interdisciplinary way of thinking that can be applied to both teaching and learning.
Clever Crazes for Kids® provides STEM integrated activities that boost self-esteem and instill in students a lifelong love of learning. CleverCrazes.com shows students that STEM is more than just the bullet points of Science, Technology, Engineering, and Mathematics. It is a way of thinking about the world and connecting ideas from all subjects in order to solve problems. Our STEM integrated content helps students develop their critical thinking skills and enhance their understanding of not only science, technology, engineering, and math, but also of social studies, the arts, physical fitness, literacy, and language arts, all while having fun! When students are able to recognize how these different subjects come together and impact their daily lives, they are better prepared to solve problems and to help other people help themselves and the planet.